AI, Deep Learning & Supercomputing:
The Boreon Phoenix combines the power of AMD EPYC™ Processors and AMD Radeon Instinct™ GPUs, based on AMD's revolutionary "Vega" architecture, delivering one PetaFLOP of 32-bit FP single precision compute power at a stunning 33 GigaFLOPs/Watt. The Boreon Phoenix is designed to address today's most complex computational problems in Artificial Intelligence, Deep Learning, Facial Recognition, VDI, compute and research at an unmatched performance-per-dollar and performance-per-watt level.
The Boreon Phoenix Supercomputing Rack: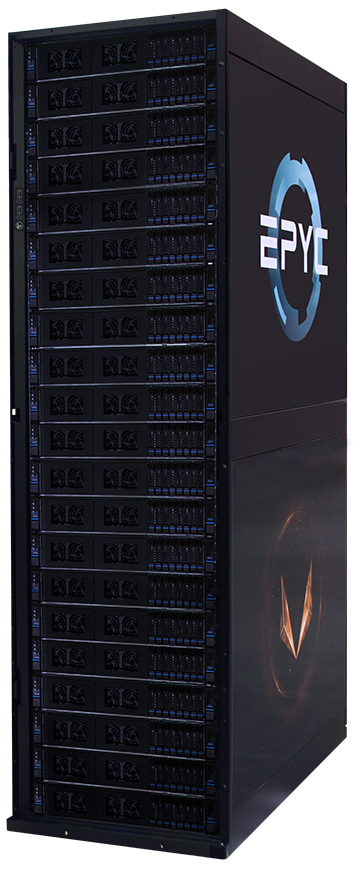 Per Rack Specs: 
GPU Architecture
80x Radeon Instinct™
CPU
20x AMD EPYC™ 7601
Memory
10 Terabytes DDR4 DIMMs 2666MHz
Adaptors
40x Mellanox EDR InfiniBand/100GbE Dual Port Card
Network Fabric
Option 1: Up to two 36-port Mellanox EDR switches
Option 2: Up to two 32-port 100GbE switches
Mgmt: 52-port 1GbE switch
Rack to Cluster Level Management
[SMART]DC Management Appl. for OOB management and health monitoring
Performance:
Half-Precision
2.4 PFLOPS
Single-Precision
1.2 PFLOPS
Double-Precision
.6 PFLOPS
Up to one PetaFLOP of compute at FP32 single precision
Up to 33 GigaFLOPs/Watt FP32 performance
AMD's revolutionary "Vega" architecture
Advanced memory and storage technologies (8 channel DDR4, NVMe SSD)
Unified InfiniBand/ Ethernet HPC fabric with up to two dual port EDR IB/ 100GbE NICs per node
Integrated rack level out-of-band management layer for remote server health monitoring and rack orchestration
ROCm open software ecosystem
Request a Quote: Here
Individual Node Specs:
Processor
1 AMD EPYC™ 7601 or 7551P 32-core, 64 thread processor, with 128PCIe 3.0
Memory
16x DDR4 DIMMs, ECC RDIMM & LRDIMM at 2667MHz, 8 memory channels cards
GPU
Four "Vega"-based AMD Radeon Instinct™ MI60 x16 accelerator
Expansion Slots
1x FHHL (full height half length) x16 PCIe slot (NIC)
OS Support
Linux 64-bit
Network
Up to two Mellanox ConnectX-5 PCIe dual-port 100GbE/Infiniband EDR cards
Management
1x dedicated APSEED 2500 BMC management port
Storage
2x M.2 NVMe SSD bays on-board
Option 1: 4x 2.5" SATA3 hot-plug SSD/HDD + 4x 2.5" NVME SSD (single NIC card only)
Option 2: 6x 2.5" SATA3 hot-plug SSD/HDD + 2x 2.5" NVME SSD
Option 3: 8x 2.5" SATA3 hot-plug SSD/HDD
Performance per Node:
Half-Precision
118 TFLOPS
Single-Precision
59.2 TFLOPS
Double-Precision
29.6 TFLOPS
Request a Quote: Here
Boreon Traditional Servers:
All-Flash Storage | Small Business Server | Enterprise Hybrid Storage
All-Flash Network Attached Storage Servers 
All-Flash Storage Drive arrays in a combination file system and volume manager designed for high capacity data protection.
zNAS 10 | 1U Xeon E5 16GB 10TB (under $10K!)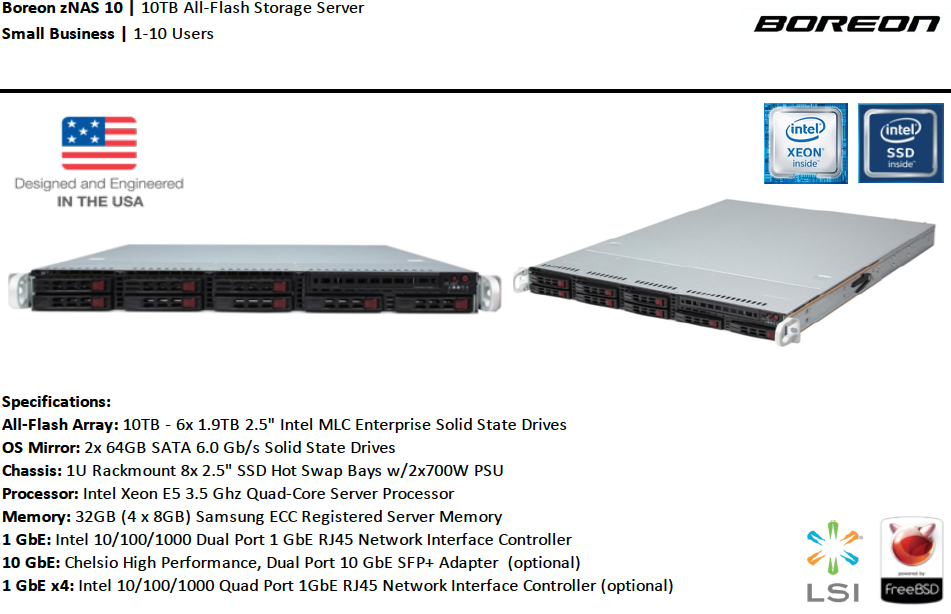 zNAS 50 | 2U (2) Xeon E5 64GB 50TB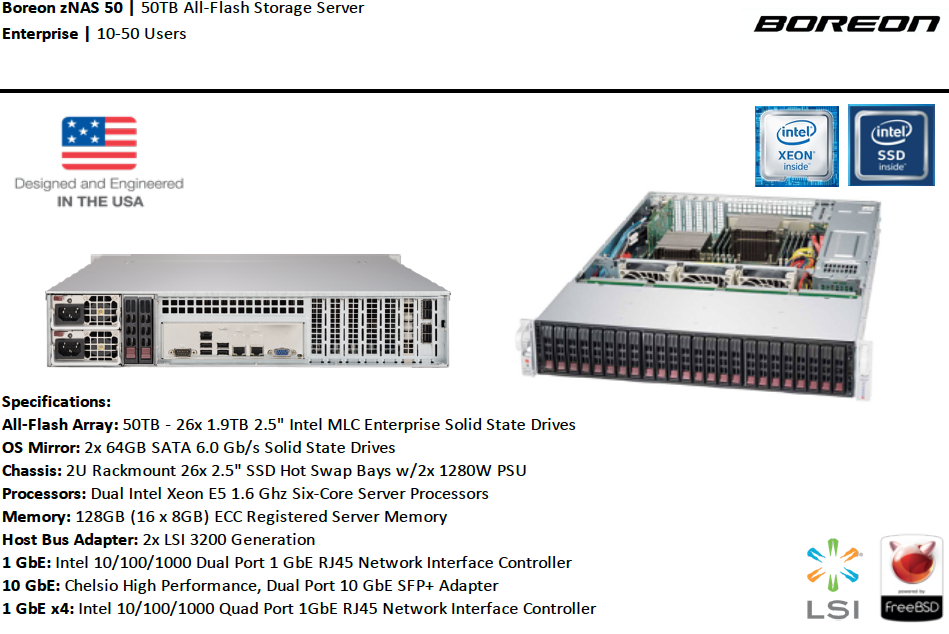 Managed, MAAS and Purchasing options available. Email for Quote
All-Flash Small Business Server 
All-Flash Business Server utilizing an onboard mirror with Xeon Six-Core+ server processors to maximize productivity. Our server is capable of managing your small business or powering your application development platform.
zServe 10 | 1U Xeon E5 16GB SSD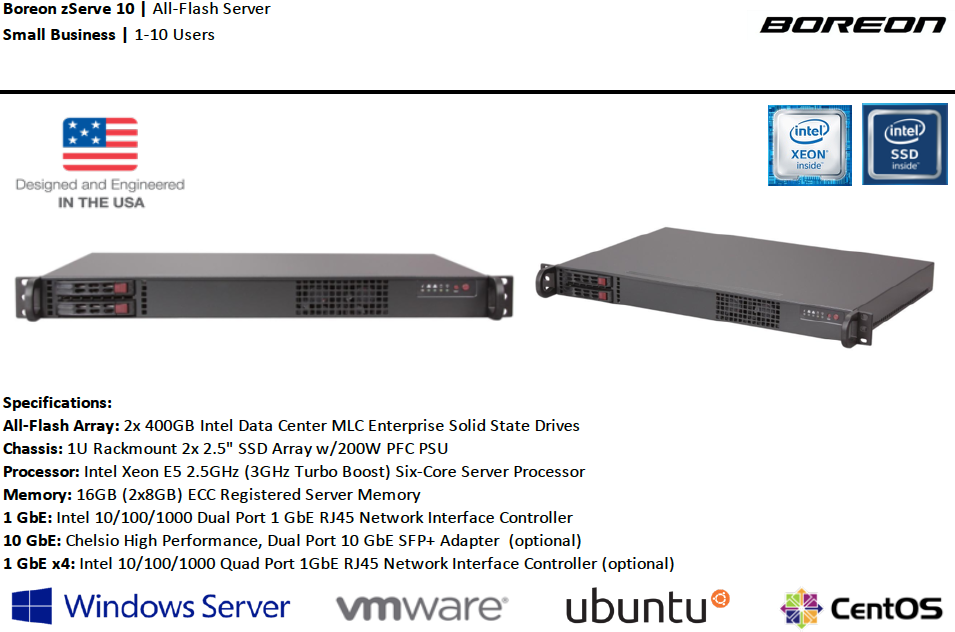 Managed, MAAS and Purchasing options available.  Email for Quote
Enterprise Class Hybrid Storage Servers
Hybrid Storage Arrays are equipped with PCIe SSD, SDD and HDD storage to maximize I/O performance. Hierarchical Storage Management with solid state drives bridges the gap between HDDs and RAM seamlessly.
zServe 50 | 2U (2) Xeon E5 64GB 64TB 10GbE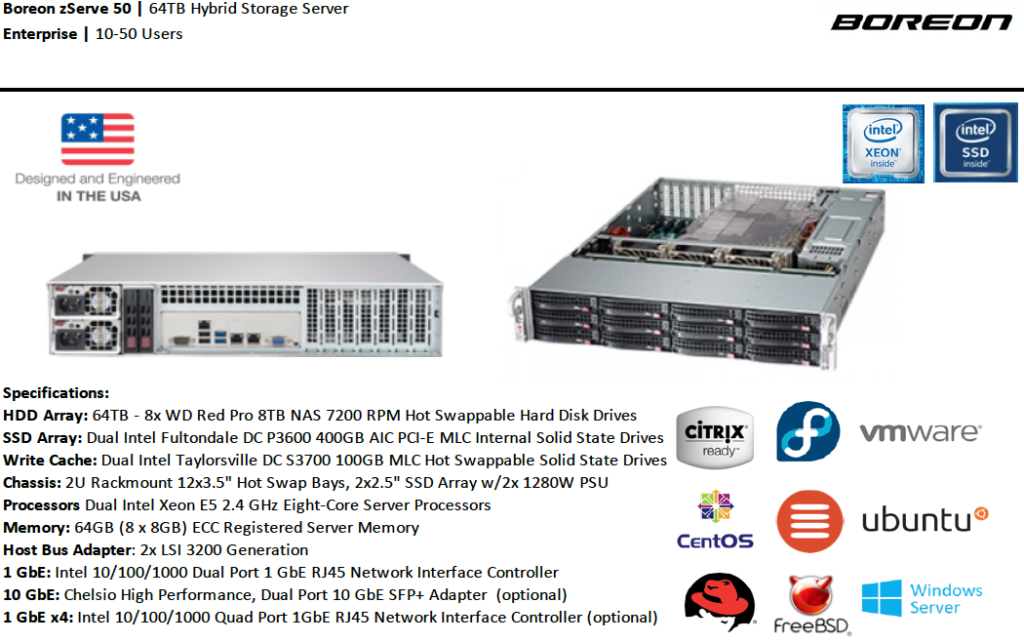 zServe 100 | 3U (2) Xeon E5 128GB 120TB 10GbE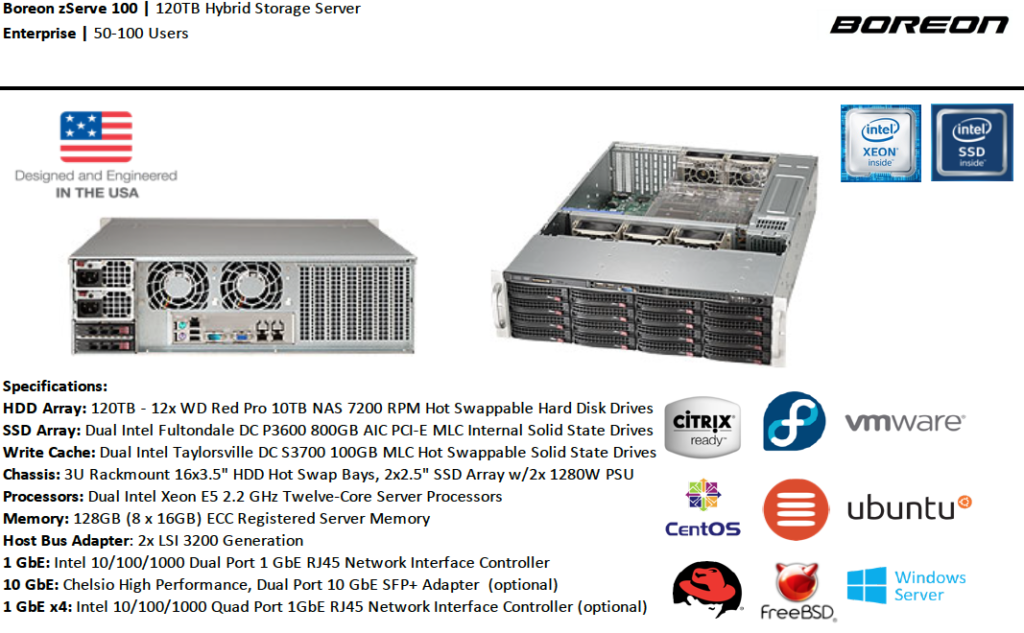 Managed, MAAS and Purchasing options available.  Email for Quote